1970
- a Canadian woman named Christina Massey meest Father Wasson in Mexico, and learned of his work with orphans. 
She also discovered that Father wanted some of the older children with aptitude to continue their education beyond high school to learn agriculture, to help manage growing of crops and animals
Christina brings three pequeños to attend the Ontario Agriculture College at the University of Guelph
1977
Christina asks Dr Neal Stoskopf, crop scientist and coordinator of the Agriculture Diploma program at the university, to enrol the Mexican boys.
Dr Stoskopf's wife, Nora, makes sure the young boys are provided with the essentials needed for university life.
Other pequeños followed over the years to study agriculture and veterinary medicine at the U of G
The Stoskopfs meet with Archbishop Joseph  Wilhelm of Kingston,  a classmate of Father Wasson's   Nora and the archbishop travel to Mexico to meet with Father Bill and visit the orphanage. 
Nora begins the process of establishing a new charity in Canada to support NPH.
Charitable status is granted.  Our Little Brothers and Sisters raises funds and finds godparents  Friends and acquaintances to visit the orphanage during the annual godparent weekend in Mexico, to meet their godchildren. 
1977 to 1993
Nora serves as our Executive Director running the office, coordinating the Board of Directors, and liaising with NPH and USA offices. an unpaid position.
1980
Nora meets Ewald Lammerding, a dairy farmer from Grand Valley Ontario through the Ontario Federation of Agriculture's SHARE program. One pequeño works on the Lammerding farmer. 
1981
Father Wasson visits Nora in Guelph, meets the board members and other volunteers, and visited Ewald and his wife Emma at their farm. 
He wants the home to be self-sufficient in growing food since it is located on a large donated farm in Miacatlan, about 1 ½ hour from Mexico City. 
1983
Ewald Lammerding spends three months in Mexico looking at the operations and providing guidance.  Father Wasson asks Ewald to oversee the farm's operation (1984-86) with Emma helping in the NPH offices in Cuernavaca. 
Ewald continues as NPH farm advisor for 20 years and spends weeks at a time in Mexico, and establishes new homes in Honduras, Nicaragua, and Bolivia.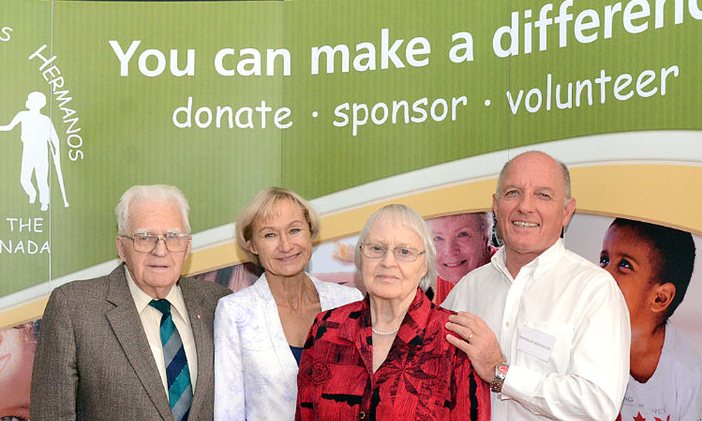 Pictured above is (left to right) Ewald Lammerding, Anna Lammerding (daughter), Emma Lammerding and Reinhart Koehler, chairman of Nuestros Pequeños Hermanos International Board of Directors